MEETING UPDATE:

Please note, on October 10th ONLY, the 7:45pm Monday Night Miracles meeting in Encino will be meeting at the OA Office in Woodland Hills.

---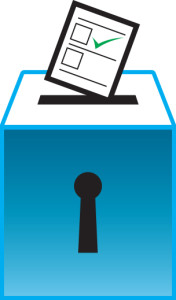 BOOST YOUR RECOVERY WITH SERVICE!
It's not too early to be thinking about elections. The San Fernando Valley Intergroup Board will be holding elections at the Delegates meeting on November 21, 2016. This is a great chance to be of service above the group level and to be a part of the inner workings behind one of OA's largest Intergroups. All Board positions will be open. Descriptions, responsibilities and abstinence requirements are listed in this flyer.
---
WORKSHOP
Sobriety With Food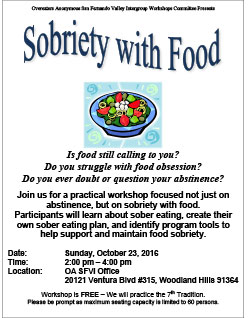 When: Sunday, October 23, 2016, 2:00 pm – 4:00 pm
Where: OA SF Valley Office, 20121 Ventura Blvd #315, Woodland Hills 91364
What: Is food still calling to you? Do you struggle with food obsession? Do you ever doubt or question your abstinence?
Join us for a practical workshop focused not just on abstinence, but on sobriety with food. Participants will learn about sober eating, their own sober eating plan, and identify program tools to help support and maintain food sobriety.
Cost: Workshop is FREE – We will practice the 7th Tradition.
Please be prompt as maximum seating capacity is limited to 60 persons.
---
EVENT
Women's Expo Los Angeles 2016
When: Saturday, October 15, 2016, 10 AM – 5 PM / Sunday, October 16, 11 AM – 5 P
Where: Los Angeles Convention Center, 1201 S Figueroa St, Los Angeles, CA 90015
What: The very best leading companies, boutiques and brands together to bring a new level of women's expo to Los Angeles. LA and Valley Intergroup will be at BOOTH #646.
Cost: FREE tickets available here http://www.lawomensexpo.com/starbucks
For More Info: Call or Email Elisa to Volunteer at the booth 818-983-8339 publicinfo@oasfvalley.org
---
EVENT
Game Night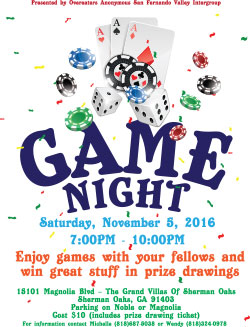 When: Saturday, November 8, 2016, 7:00 – 10:00 PM
Where: 15101 Magnolia Blvd, Sherman Oaks, CA 91403 ~ The Grand Villas of Sherman Oaks (Parking on Noble or Magnolia)
What: A fun night of games and prizes with fellows
Cost: $10 (includes a prize drawing ticket)
For More Info: Contact Michelle (818 ) 687-5038 or Wendy (818) 324-0978
---
EVENT
2017 OA Birthday Party – Language of the Heart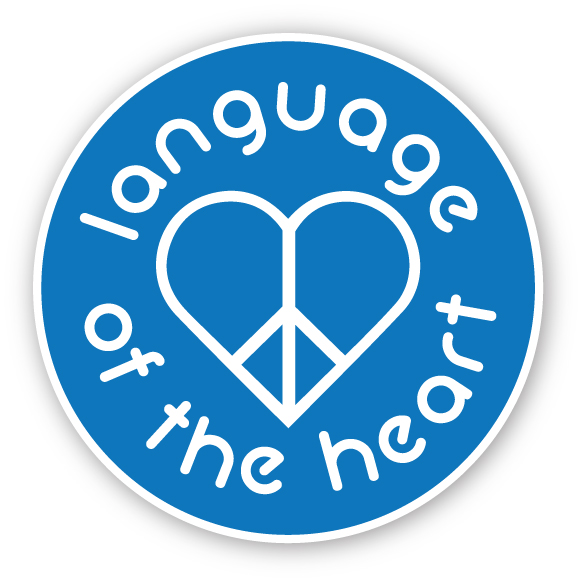 When: January 13-15, 2017
Where: Hilton LAX, 5711 W Century Blvd., Los Angeles, CA 90045
What: he annual Overeaters Anonymous Birthday Party celebrates the January 1960 founding of our program. The party is the main Special Event of the year for the Los Angeles Intergroup. Its purpose is to enhance personal recovery in OA, raise funds to keep the intergroup thriving, and highlight fellowship and service.
Cost: $40 Early Bird (before 11/25/16)
For More Info: OABirthday.com
*Want to participate in the Birthday Party talent show? Auditions will be held on August 20th at the LA Intergroup Office from 1-4PM. 6404 Wilshire Blvd. Suite 710, Los Angeles, CA 90048, Phone: (323) 653-7652